Who doesn't love a good deal, right? When it comes to finding a top-notch WordPress Digital Library Plugin, you've got to go through a lot of steps.
You and I both know about the Amazon affiliate program. Therefore, building a huge Amazon affiliate book store is a complicated task and requires a lot of time.
Ecommerce giant Amazon is probably the biggest in the world. The site isn't just an online store, it's also a marketplace where people can sell stuff among themselves. When it comes to promoting books on Amazon, Books Gallery is a great WordPress plugin that allows you to create a book store using Amazon's service.
Even though the plugin is fairly new, it already has some really cool features that could easily transform a merchant's blog into an online store.
To help you achieve your desire,
I would like to show you how to build an Amazon affiliate store using WordPress Books Gallery plugin. If you use this plugin, you will be able to sell your books through Amazon.com in a much easier and less expensive way.
Sounds good, let's dive in
What is WordPress Books Gallery Plugin?
Before diving into detail, let's explore the main concept of the WordPress Books Gallery plugin. It is a simple and powerful affiliate plugin for WordPress to create an online mobile-friendly book store, gallery or library in 60 secs.
The plugin comes loaded with powerful marketing tools and highly configurable options. It's the perfect time to get on board with Books Gallery if you're looking to start an Amazon affiliate store with WordPress and good SEO strategies.
Books can be downloaded for free or purchased from a third-party site.
WordPress Books Gallery – Is The Plugin for me?
It's absolutely a must-have plugin if you want to open an Amazon Book Store. It's a complete solution with lots of outstanding features.
Additionally, WordPress is an extremely versatile platform that can be used for a range of different applications and sites. Working with WordPress is incredibly easy thanks to its simplicity.
Meanwhile, here's why you should use the Books Gallery Plugin.
You can create your personalized book store
A great way to earn money by marketing others' books.
A publisher or author can directly sell books from your site.
Quick and easy WooCommerce setup.
How To Build An Amazon Affiliate Book Store Using The WordPress Digital Library Plugin:
If you want to turn your passion into a career, there is a simple step-by-step process you can use to build your own Amazon affiliate book store.
In this article, I'll demonstrate how you can build an amazing bookstore on your website using the powerful WordPress plugin "Books Gallery". As soon as you have a basic understanding of the plugin, you can begin setting up the store. After that, you can keep adding books to your bookstore.
OK, sounds good?
Start by finding a niche that's in high demand. Amazon has tons of niches you can target if you want to sell books. E-books are a convenient way to sell to individuals or small businesses if you're looking for something different.
After picking a niche, you'll need the right plugins to create an Amazon-selling book store.
Here we go,
Step 1: Create A Book Showcase Page & Preview
After creating a book category, search and find books that are suitable for your selected category. After the books are added, create a book showcase page and publish.
Step 2: Find Out The External Link Box
Once your books are published, you are ready to generate the sell. Open the dashboard and click the "WBG Books" menu. Select and choose the book. Open the edit and scroll it down to find the "External Link" box.
Place the Amazon Affiliate Link into the "Enteral URL" box and click update.
Then, go to the left-hand side of the dashboard and click the "Gallery Settings" options.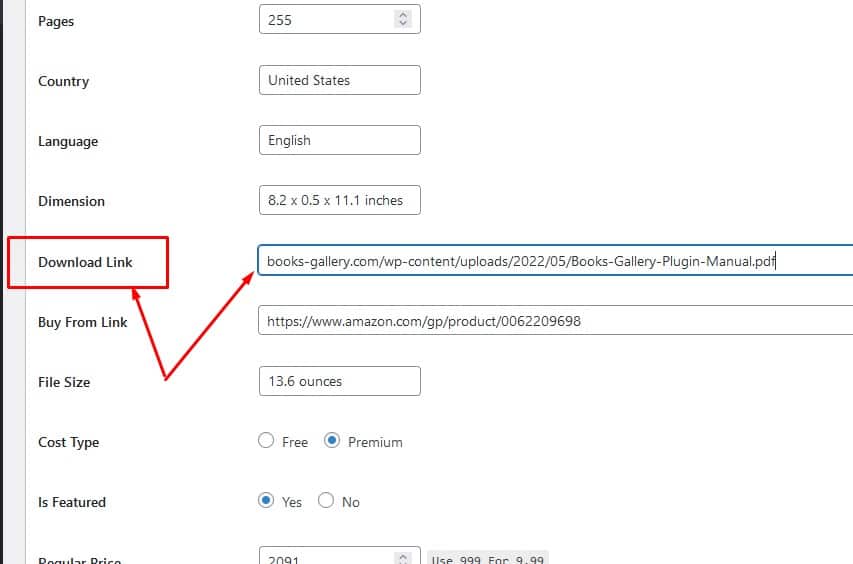 Step 3: Pull The Gallery Settings Button
You might think that there is nothing fancy about the design. Let's not worry about the design for now. However, if you wish to change anything in the WordPress Books Gallery menu, simply go to Gallery Settings.
Here, you will find the "Content" and "Styles" options. So, select the "Content Settings" option and drag your cursor to the "Button Text" box.
Step 4: Change The Button Text
The button that used to appear on your book showcase page was Download. The button text needs to be changed to "Buy From Amazon" since you are building an Amazon Book Store to sell books.
You're done! Click Save Settings.
Now, go to the "Styles Settings" and customize your design like the size of the image, how many columns there are, how the title looks, etc. Additionally, you can change the colors, fonts, and other styling options.
 Step 5: Preview The Page:
Now, it's time to enjoy the final sip. Your store is ready to integrate the Books Gallery plugin. So, go to the My Books link and click on the Buy From Amazon button for a book.
This redirects you to a new page from where you can review the book summary and other information including the purchase or free download button. You can also consider it as a Book Review Display page.
It Is Time For You To Get Started 
The creation of an Amazon affiliate book store is a great way for your business to generate leads and make money at the same time. Our WordPress Digital Library Plugin makes it easy for you to set up your store, track your sales and MINIMIZE risk by automating the process of purchasing books from Amazon.
Not only does this plugin make it easy to add books to your store, but it also provides you with helpful tools and resources that will help you succeed.
With our help, building an affiliate book store is simple, efficient, and profitable!
So, get your own book store up and running in no time!