Description:
---
Begin your journey into Middle-earth.
The inspiration for the upcoming original series on Prime Video, The Lord of the Rings: The Rings of Power.
The Return of the King is the third part of J.R.R. Tolkien's epic adventure The Lord of the Rings.
One Ring to rule them all, One Ring to find them, One Ring to bring them all and in the darkness bind them.
The Dark Lord has risen, and as he unleashes hordes of Orcs to conquer all Middle-earth, Frodo and Sam struggle deep into his realm in Mordor.
To defeat Sauron, the One Ring must be destroyed in the fires of Mount Doom. But the way is impossibly hard, and Frodo is weakening. The Ring corrupts all who bear it and Frodo's time is running out.
Will Sam and Frodo succeed, or will the Dark Lord rule Middle-earth once more?
Books Gallery
Average rating:
0 reviews
Editorial Reviews
Review
"An extraordinary work -- pure excitement." The New York Times "A triumphant close... a grand piece of work, grand in both conception and execution. An astonishing imaginative tour de force." -- Daily Telegraph --This text refers to an alternate kindle_edition edition.


From Library Journal
New Line Cinema will be releasing "The Lord of the Rings" trilogy in three separate installments, and Houghton Mifflin Tolkien's U.S. publisher since the release of The Hobbit in 1938 will be re-releasing each volume of the trilogy separately and in a boxed set (ISBN 0-618-15397-7. $22; pap. ISBN 0-618-15396-9. $12). Copyright 2001 Reed Business Information, Inc. --This text refers to an alternate kindle_edition edition.
About the author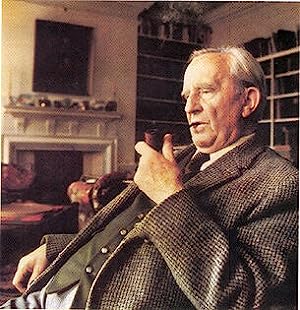 J.R.R. Tolkien was born on 3rd January 1892. After serving in the First World War, he became best known for The Hobbit and The Lord of the Rings, selling 150 million copies in more than 40 languages worldwide. Awarded the...
Read More
Back